Hidden in a small eatery behind Yishun Bus Interchange is a well-known
Laksa
stall that has many accreditation and awards plastered on its glass panel.
Despite their fame, this
Laksa
stall has no name and is affectionately known as the
"928 Laksa"
by its customers because the eatery is located right at the foot of Yishun Block 928.
You can tell how immensely popular their
Laksa
is with those staying staying in the neighborhood when it is the only thing they sell and yet able to command a perpetual queue that never seem to end for the last fifteen years of business.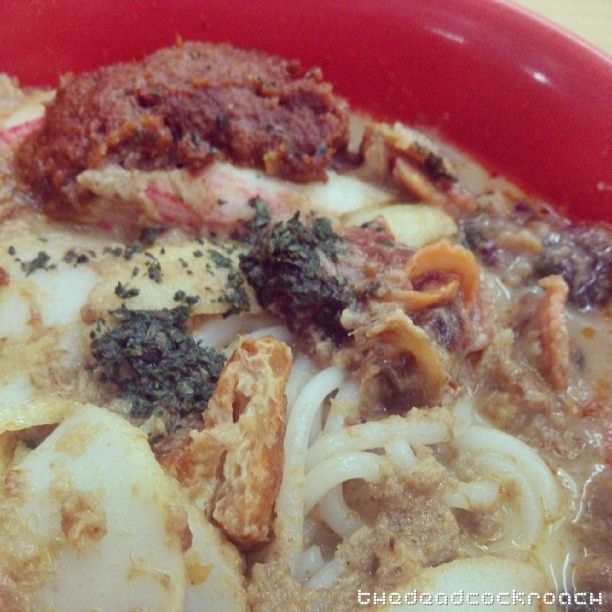 A regular-sized bowl of delicious
928 Laksa
is priced at $2.50 while a bigger bowl is set at $3.
The portion for my $3 bowl is very satisfying. The
chor bee hoon
is plentiful with the usual fish cake,
taugeh
(beansprouts),
taupok
(tofu puff), half a hard boiled egg, imitation crab stick and ten
see-hums
(cockles) of various sizes
(yes, I counted!).
I would say this is a decent bowl of
Laksa
using fresh ingredients and the chili is not too hot for those who cannot take the heat. As for the gravy, it is fragrant and not very oily although I find it a little thin.
Perhaps I have been too pampered by my regular
Laksa
stall whose cockles are all a constant medium size; the cockles I had here were all on the puny side. I also find it weird to have crabsticks in my
Laksa
.
With that said, get ready your tissue not to
chope
seats but to wipe off your sweat if you are seated inside. I was sweating buckets as ventilation inside the eatery is quite stagnant.
Seating capacity of the eatery is quite limited especially during lunch hours when office workers
chope
seats for their colleagues so try not to come during peak hours or you would risk holding a bowl of
Laksa
with no where to eat.
Or you could simply order to take-away in which case, the friendly stall owner would pack the gravy separately for you.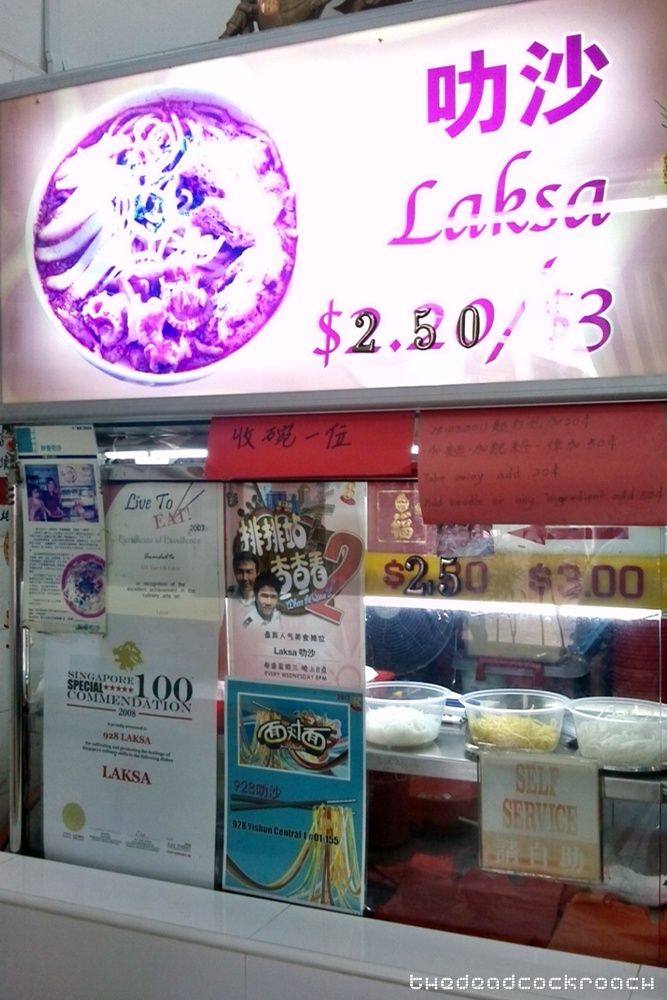 928 YISHUN LAKSA
Blk 928 Yishun Central 1
#01-155