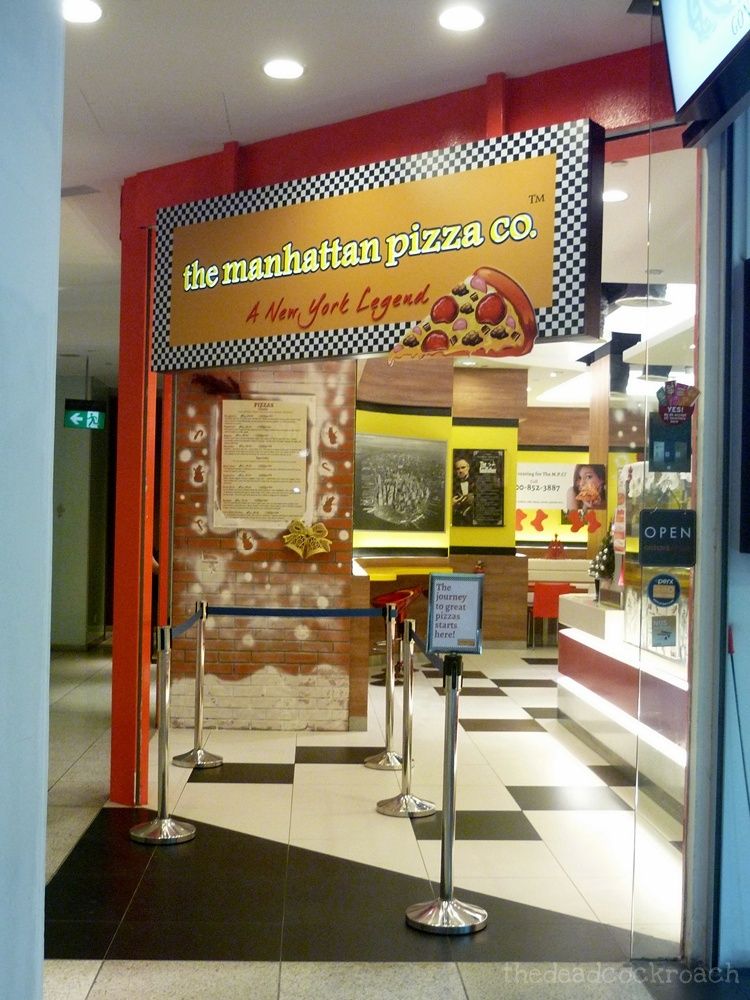 The Manhattan Pizza Co. which is famed for it's XXXL pizzas in NYC has found it's way to our shores here in Singapore.
Thanks to
Daniel
, I had won myself a e-voucher to redeem a free 20" pizza.
As usual, I always procrastinated till the very last day of the voucher's validity before I actually made my way down to Orchard Central where the pizzeria is situated.
The place was surprisingly empty when I arrived there on a weekday afternoon. It is located at basement 1 beside Gong-Cha, where
MOS Burger
used to be
.
Unlike the other pizza chains here, The Manhattan Pizza Co. operates their business à la fast-food style where you place your order over the counter instead of having a waiting staff coming over to your table.
The pricing is pretty affordable, even for students, with a combo set ranging from $4.90 to $8.90 while whole pies (20") starts from $32 onwards.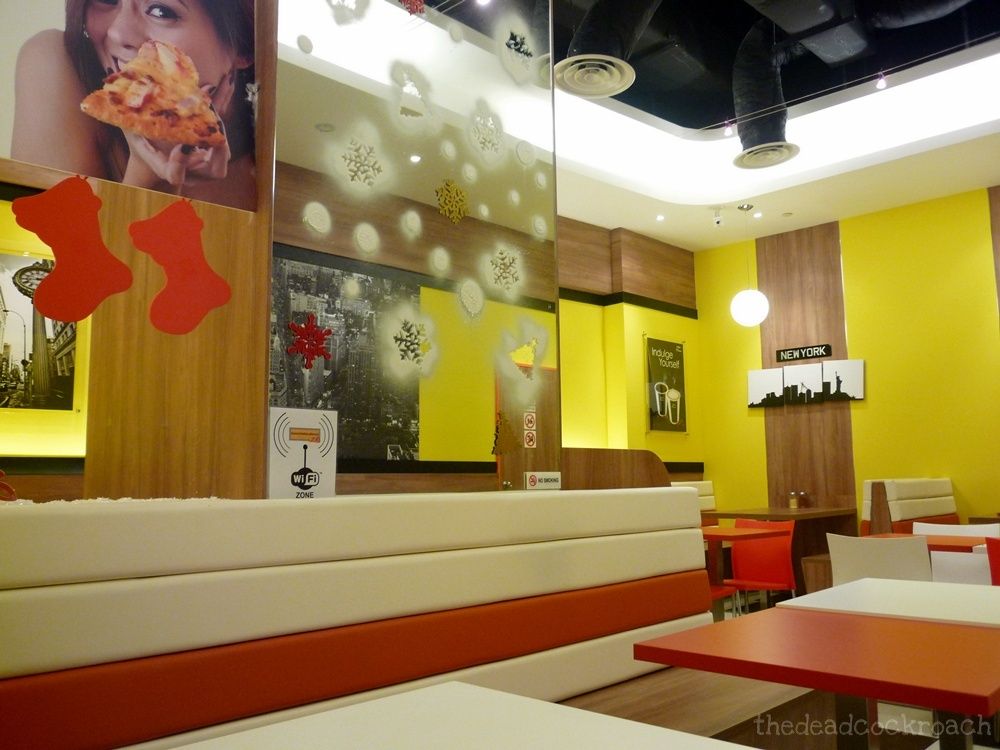 Free wifi here!
One thing that puzzled me when I expressed my intention to claim the free pizza was the need for my name and identification number.
I would understand if they had wanted my name for verification purposes but what do they want my identification number for? I do not feel comfortable handing out such personal info to a complete stranger over the counter. (OK, I still did anyway)

And, it's not even a proper form on a clipboard for me to fill in but rather, a small piece of paper that is torn from a larger piece.
Perhaps The Manhattan Pizza Co. would like to relook into this policy? I am sure there are better ways to authenticate the identity of the recipients of their pizza giveaways?

Isn't the unique serial number on my e-voucher (which their staff failed to verify) valid enough?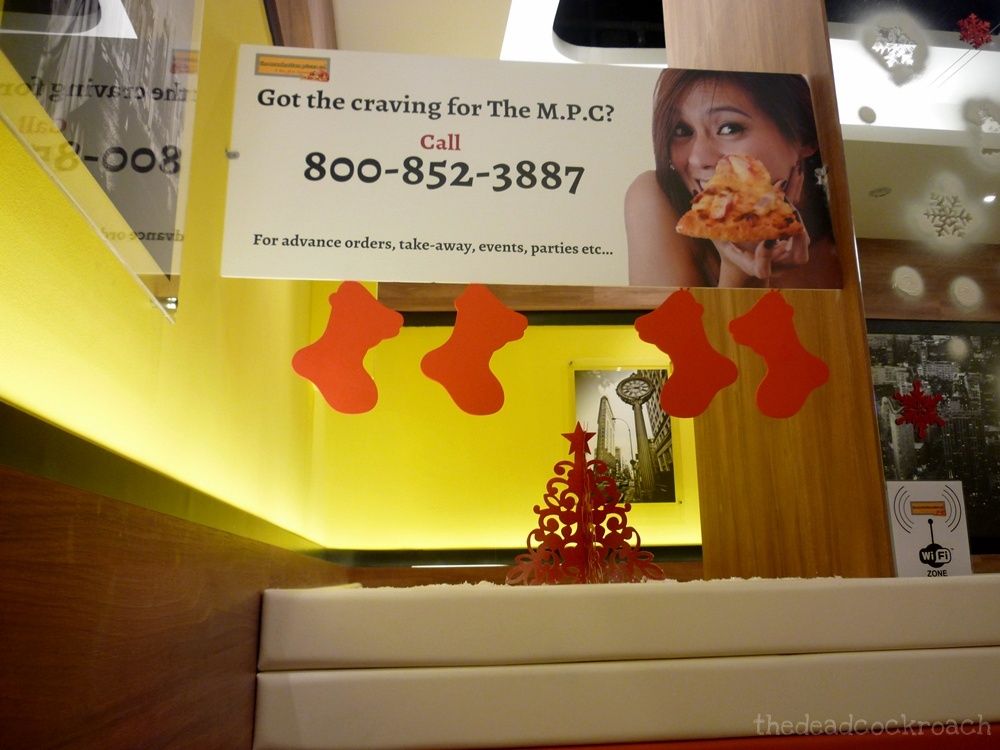 Toll free number to call
Condiment station
When my order was finally delivered to my table, the only thoughts I had was: "I'M SCREWED..."

How on earth do I get this monster back home? It is almost peak hours at Orchard Road and I do not drive!
To give you an idea of how big a 20" pizza really is...
just compare the size with one of the restaurant's tabletop. The size of the largest pizza from their competitor stands at a mere 14".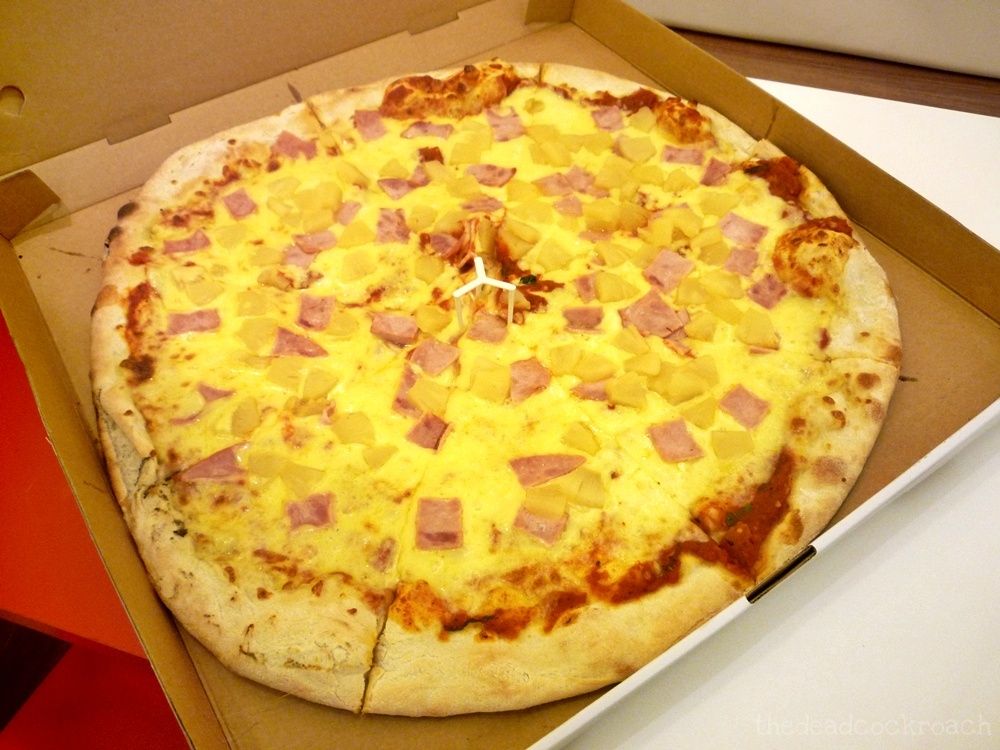 Full glory of a 20" Hawaiian pizza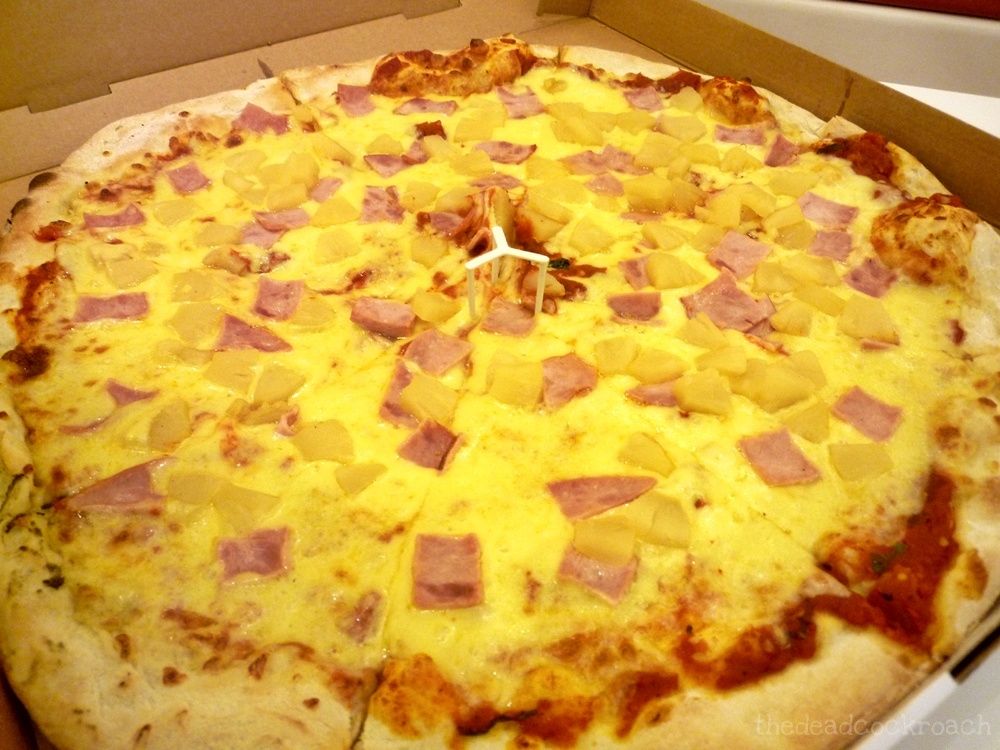 Well, you can tell how dumb I really was to have wanted to take-away this 20" pizza home via the train.

Navigating my way through the Orchard crowd to the train station is one thing. Boarding the train and making it home is another.

Throughout the journey, I cannot put down the pizza nor have a seat without invading another person's space.

I stood at the remotest corner, trying not to be too conspicuous but the aroma of the pizza could not be contained and it didn't take long to infiltrate the entire cabin, drawing curious stares from those around me.

With the pizza box in my arms, there is no escaping from being the centre of attention!

Somehow, with all the attention I am getting, I cannot help but think how shrewd the brains behind The Manhattan Pizza Co. are by turning their take-away customers into unwitting walking advertisements.

What a brilliant idea!
This is how big one slice (10") looked like
It ain't called the XXXL pizza for nothing
And so, both the pizza and I made it home safely but just how does it fare in the taste department?
By the time I reached home, the pizza has turned cold. Obviously.
But there is nothing that a microwave oven can't fix.
Firstly, the tomato sauce at the base seem rather thin to the point that the pizza actually tasted quite dry in my mouth. I like my pizza to be slathered with a thick layer of sauce so this is a disappointment for me to say the least.

Secondly, the cheese and ham tasted rather bland. Pray tell what joy is there for me if my pizza is tasteless?
I am not certain if that is how the Americans like their Hawaiian Pizza but I had a lot more expectations than this.
To be fair, the microwaving part might have altered the taste in one way or another and I am not going to blacklist this pizzeria based on just one visit.

I will be making an impromptu visit to give it another try just to see if there is any difference in taste if it had been eaten on the spot at the store?
THE MANHATTAN PIZZA CO.
Orchard Central
181 Orchard Road
B1-01
Singapore 238896
Opening hours:
Mon – Thur: 11am to 10pm
Fri, Sat, Sun: 11 am to 10.30 pm
Contact:
Phone: 800-852-3887