An impromptu visit to Clementi Central last week prompted me to have lunch at Blk 448's Market & Food Centre.
With a myriad of options available, I was spoilt for choice!
I walked along the stalls and it did not take me long before I stopped my tracks at Soon Lee Porridge.
I placed an order with the lad standing outside the stall and was duly informed that there would be at least a twenty minutes wait.
Pork Porridge without egg $2.50
It was an awful long wait but all was forgiven when my bowl of Pork Porridge without egg was delivered.
At first glance, the consistency of the porridge was done just the way I like it; thick but not to the point of being gooey.
I paused for a moment as I savor the richness of the smooth porridge.
To be honest, it was not the best tasting bowl of "chok" I had but still, I was overwhelmed with emotions.
You see, the taste of Soon Lee's porridge reminded me of my late Grandma and her pot of Pork Porridge which she would cook during the weekends to feed her visiting grandchildren.
I still remember vividly the scene of her toiling over the charcoal stove in the kitchen, constantly stirring the porridge and fanning the charcoal to control the fire.
The similarity of the taste was so surreal that I thought my bowl of Soon Lee porridge had come straight from Grandma's pot!
Years after her demise, I have been trying to recreate her pork porridge in all ways possible albeit without much success hence I am so shaken to be able to taste a bowl of chok that is so uncannily similar to her's!
Porridge remains one of my top favorite comfort food as it reminds me of the limited memories I had had of Grandma.
What about you? Is there any dish that reminds you of someone?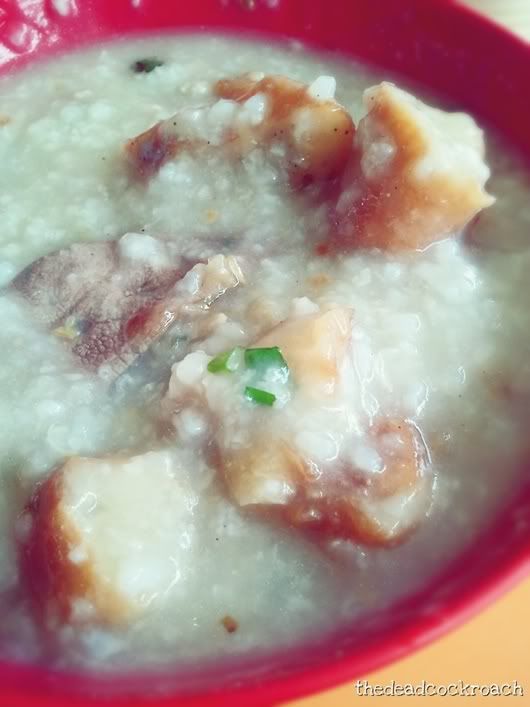 SOON LEE PORRIDGE
Clementi Central Market & Hawker Centre
Blk 448 Clementi Ave 3
#01-26
Singapore 120448
Opening Hours: Mon - Fri: 6am - 9pm, Sat: 6am - 5pm, Sun: Closed
GPS Coordinates:
1.312988, 103.764064