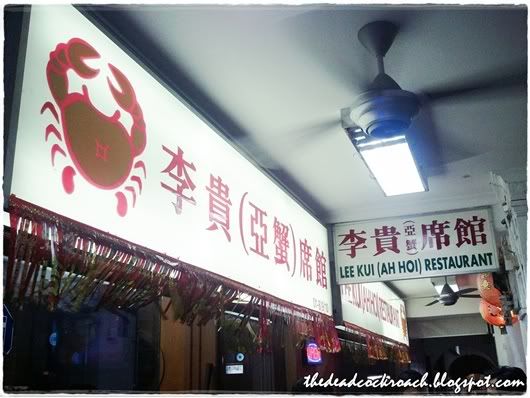 Lee Kui (Ah Hoi) Restaurant
Famed for their cold steamed crabs, Lee Kui - or better known as Ah Hoi (Crab in Teochew) - is a forty years old Teochew Restaurant that dishes out traditional Teochew cuisine.

When we arrived during the evening, the restaurant was already teeming with people and we had to wait for a good twenty minutes, even though we had already made a reservation.

The walls at the holding area were adorned with pictures of their menu so patrons could check out what they wanna eat before they get a table. Good strategy to keep patrons occupied so the wait does not seem that long.
As the waitress showed us to our table, a wave of nostalgia sets in. The nondescript deco instantly reminds one of a chinese restaurant from the 80s.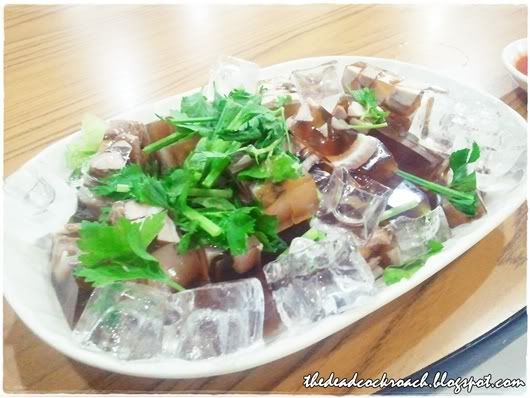 Pork Jelly
A better look at the Pork Jelly
Pork Jelly (or Pork Aspic) is a time-consuming dish to prepare which involves the boiling of pork then refrigerating the stock and meat overnight until the collagen turns into gelatin.

The pork, now trapped in a wall of jelly is then served cold. Quite refreshing for a hot day though I find there is more jelly than meat.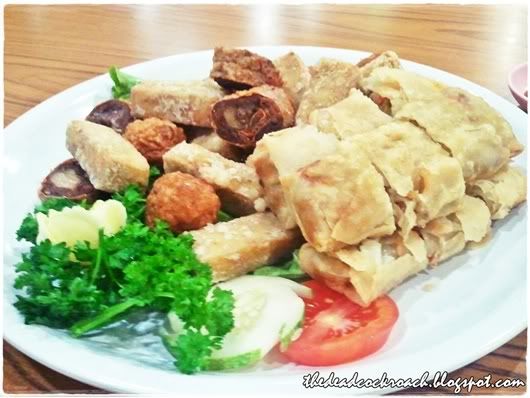 Fried Platter
Next up was the Fried Platter. I do not know the proper name for this dish but it is a mixture of fried stuffs: Popiah, Tofu, Liver Roll and Hae Cho or Crab Ball (I did not managed to eat that so I do not know).
Yam Basket
I have always loved the stir-fried ingredients stuffed inside the Yam Basket but I'm not too much of a fan of Yam.

The prawns were succulent while the other ingredients were very fresh and goes well with rice.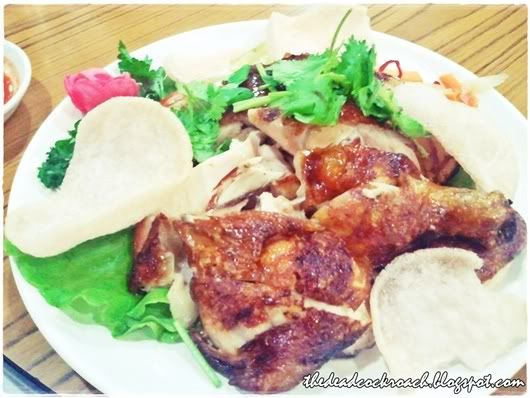 Roast Chicken
We had wanted to order the their famous stewed duck but was told it it was already sold out.

We then ordered a half Roast Chicken at their recommendation which turns out to be mere mediocre.

We found the meat to be dry and tough.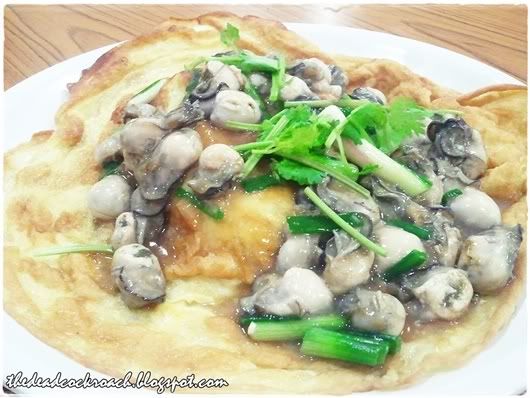 Oyster Omelette
(Oh Chien/Or Luak)
This is the best Oyster Omelette I have ever had!

What separates this from those found elsewhere is that the one here is purely egg and oysters without the starch solution.

The egg was fried till fluffy and moist while a generous number of plump and juicy raw oyster sits on top.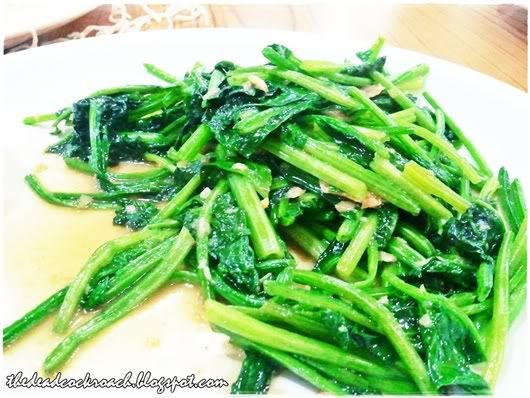 Spinach with Sole Fish
Spinach was one of my favorite vegetable but unfortunately, the sole fish was extremely bitter. I woud have been able to finish this all by myself if not for the bitter aftertaste prevalent throughout the whole dish.
Bai Cai
with Conpoy
I never thought that I would ever use the word 'gross' to describe a dish but the bai cai was grossly over-stewed to the point of being mushy.

I am not familiar with Teochew cuisine but is this how Teochews like their cabbage?
You know this restaurant is old school when they
still uses this flower to decorate their dishes
It seems unfortunate that the food here can be very much a hit and miss affair. Could it be that we did not order the signature dishes?

However, taste is something very subjective so do not let my reviews stop you from visiting them. There must be something about them to be able survive business for forty odd years?
Be forewarned that they accept cash ONLY.
No NETS or Credit Card allowed so do bring enough cash to pay your bill!
LEE KUI (AH HOI) RESTAURANT
8/9/10 Mosque Street
Singapore 059488
Tel: 6222 3654
https://www.facebook.com/leekuiahhoirestaurant?sk=wall
Opening hours
:
Mon - Sun: 11am - 2.30pm, 5pm - 10pm