Since I was at Robinsons Road the other day, I decided to have lunch at the nearby Amoy Street Food Centre.
The
'homework'
I did the night before narrowed down my choices to
Tai Seng Noodle House
- specifically for its
Wanton Mee
. My reason for picking this stall is attributed by the many photographs of the
Wanton Mee
with its generous serving of ingredients.
I could not believe my eyes when I saw photos of the said
Wanton Mee
that I had to come see this for myself!
And seeing is believing.
Jin zuey char siew, jin zuey wanton, jin zuey cai...


I can only say that I am astounded by the sight.
It is my first time seeing
Wanton Mee
whereby the portion of ingredients outweighs the noodle.
There is so much stuff on my plate I almost could not see the noodles underneath. And all this for just SGD3?
In this economy where prices are skyrocketing and everyone cutting costs to cope with the inflation, here we have a stall selling
Wanton Mee
with colossal proportions that's easy on the pocket!
The auntie preparing the noodles simply scoop and throw the
wantons
and
char siew
onto your plate without a care. She did not even bother counting how many pieces she has given you.
She is cool like that.
You know how some hawkers are so
ngeow
precise with the amount of ingredients you could have that they even have to retrieve that ONE extra slice of
char siew
which they might have accidentally dropped into your plate.
(Yes, I have seen that happen before!)
Anything that falls into my plate
belongs to me
. If you take it back, I will roll my eyes at you.
With that massive portion, I have trouble mixing everything up. The risk of having anything falling over the rim of the plate is something I did not want to take. I think auntie need to change bigger plates!
The Wanton Mee sauce is a mixture of 6 different sauces!
The noodles were firm to the bite and the sauce surprisingly reminds me of the
Wanton Mee
stall from my childhood which is no longer in business.
Isn't it comforting how a certain taste could actually evoke one's memory? I really like the concoction of the sauce. Although it may not be the best there is but it is not that bad either.
Next, the
wantons
.
They are puny but I am not complaining!
What they lack in size, auntie make up for it in numbers.
I think the standard number of wantons you get from the
Wanton Mee
elsewhere is around 3.
Here, I counted 7 boiled
wantons
and 3 fried ones!
The bowl of soup that came with the boiled
wantons
is flavorful with the sweetness of anchovies. Well, compared to the one near my house which tasted like it came straight out of the tap with just a dash of pepper, this is simply divine.
And the
char siew
.
It is a shame that the haphazardly chopped
char siew
were the very kind I detest. I cannot stress this enough that I hate anorexic
char siew!
It tastes so dry I feel like I am chewing cardboard!
Depending on which school of thought you are from,
Tai Seng Noodle House's Wanton Mee
is value for money if you are looking to fill your stomach while on a strict budget but if taste is of utmost importance, then this might disappoint you
(but it is not really that bad lah)
.
Although the
char siew
were not to my liking, I am still appreciative of auntie's generosity which reminded me of a mother who is consistently worried about her kids having not enough to eat
(therefore keep piling her kid's plate with food)
.
And that, is reason enough to warrant another visit.
Tai Seng Noodle House
which used to be from the demolished Blanco Court, is now located on the second floor of Amoy Street Food Centre. This place will be swarmed with the CBD office crowd during lunch time so it is best to avoid coming here during peak hours.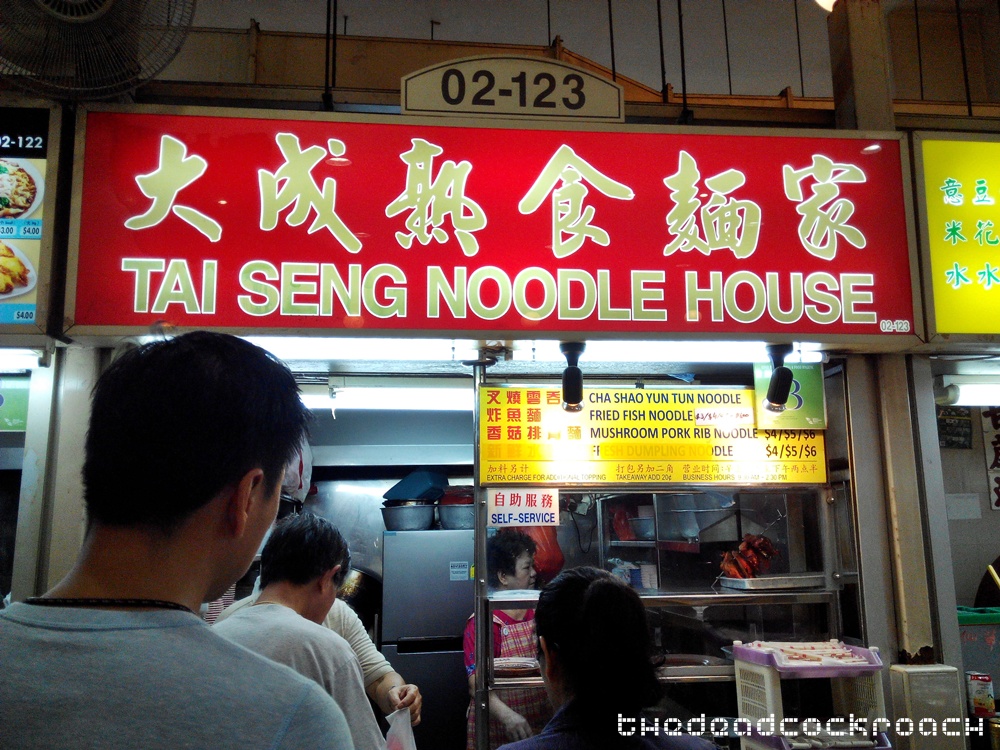 The Verdict
?
My ratings: 3/5
Tai Seng Noodle House 大成熟食面家
Amoy Street Food Centre
7 Maxwell Road
#02-123
Singapore 069111
Opening Hours
:
Monday to Saturday: 9.30am – 2.30pm
Google Map:
https://goo.gl/maps/Q9S5E
GPS Coordinates:
1.279213, 103.846654
Follow/Like