Qianhu Fish Farm had very humble beginnings.
The Yap family started off as pig farmers before venturing into the ornamental fish business. They converted old pig pens into concrete ponds and bred Guppies for local exporters.
There is no turning back for the small family business which has since grown into the corporation it is today. In year 2000, Qianhu became a public listed company on the SGX.
I enjoy visiting the farm to escape from the bustle of city life. I also like to get my aquarium supplies here because it is not too far from where I stay but most importantly is, watching the fishes has a therapeutic effect on me.
Besides, the aquarium shop near my place got their supplies from Qianhu too so it makes sense for me to come here straight where I can find everything I need all under one roof.
You can enjoy an idyllic afternoon here with your loved ones to relieve the childhood days of longkang fishing or simply pamper your feet with a fish spa.

You can also seek advise here if you are setting up an aquarium for the first time.
Koi fish shed
Assorted colors
Long finned variety
Tropical fish shed
African Cichlids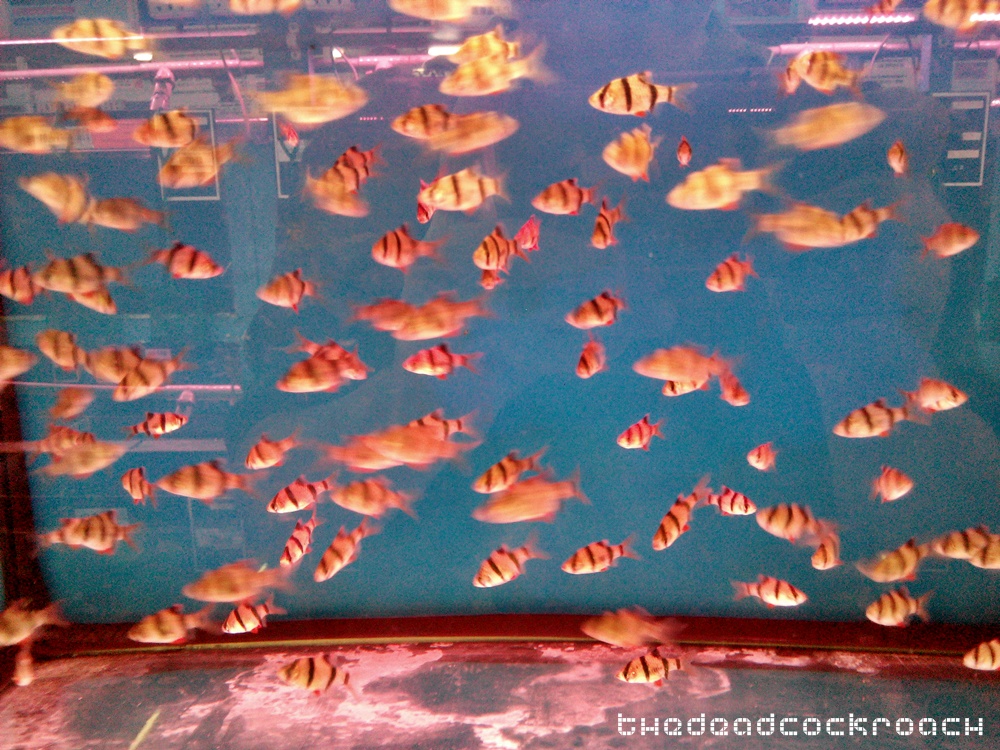 Tiger Barbs
Green Tiger Barbs
Balloon Tiger Barbs
Gourami
Ramirezi
Angelfish
Rainbowfish
Betta Corner
Betta Splendens aka Siamese Fighting Fish
House of Dragon showcases some of Qianhu's prized Arowanas
Dragon Fish aka Arowana
Silver Arowana

Did you know international star Chow Yun Fatt has donated his Green Arowana to Qianhu many years ago? Unfortunately, I have no idea where the fish is right now.
This is the Goldfish shed where all kinds of Goldfish can be found
Next to the Goldfish zone are some tanks of Rays
Huge ray!
Then there is the Fish Gallery where the more expensive fishes are kept.
Mixed Cichlid tank
Discus
Rows of tropical aquarium fishes
At the Agro Education Centre, they used to have rabbits and guinea pigs which I feel are not kept in very optimal conditions. I am glad that they have done away with the exhibits now. Here, you can feed the Kois, longkang fishing, or have a session of fish spa at a minimal charge.
Panorama of the
longkang
fishing area
For SGD6, you will be given a small tank, fish net and 30 minutes to fish
The shot I was waiting for...
Longkang
fishes made up primarily of livebearers like Mollies and Swordtails
Qianhu offers one of the cheapest rates for fish spa at SGD10 per 30 minutes
But obey the house rules!
Koi feeding at SGD1 per packet of fish food
Qianhu's fengshui wall
Arowana breeding ponds
More breeding ponds
Can you spot the Arowanas near my watermark?
Where they pack fishes for wholesale and exporting
Qianhu van pretty cute
Taking a break at the cafe while waiting for the shuttle bus to arrive
Lower your volume before playing the instavideos below.
I have no idea what's up with the high frequency sounds.
Qianhu Fish Farm is located at Jalan Lekar.
Just turn into the small lane opposite the Home Team Academy at Old Choa Chu Kang Road and you will be there.
Business hours
If you are wondering how to get to Qianhu Fish Farm, there is a complimentary shuttle bus service to and fro Choa Chu Kang Bus Interchange.
This is the bus schedule.
Mon - Thur (hourly): 9am to 6pm (last bus)
Fri & Eve of public holidays (hourly): 9am to 6.30pm (last bus)
Sat (half hourly): 9am to 6.30pm (last bus)
Sun & public holidays (15 minutes interval): 9am to 6.45pm (last bus)
The shuttle bus
QIAN HU FISH FARM TRADING 仟湖鱼场贸易
71 Jalan Lekar
Sungei Tengah
Singapore 698950
Tel: 65-6766 7087
Follow/Like