Say Seng Authentic Teochew Mee Pok
(生成乾面) is one of the few stalls with a snaking queue that caught my attention during my first visit to the temporary hawker centre. I did not managed to have anything at that time because I do not want to join the lunch time queue.
I returned for a visit slightly earlier on another day and I headed straight for the stall only to find that there is no queue.
The
mee pok
here costs between $3 to $6 but the $3 portion is only available before 11am. I decided to go for the $4 bowl after a quick glance at the menu.
My
mee pok
was ready within a minute or two. Giving the
mee pok
a good toss, I took a bite and was instantly sold.
First of all, the taste is really old school. I believe the sauce included pork lard oil, light soy and their special home-made chili sauce which delivers a kick yet have a
ketchup-ish
sweetness to it.
And that crispy pork lard is to die for! Some stall's
chu yau char
are so off-putting with the stale oil smell but this is divine. Together with the sauce, the
chu yau char
actually complemented the taste of the noodles.
Next, the ingredients.
There are two fish balls, one halved prawn, some slices of pork loin and fish cake. The fish balls are smooth and soft but lacked the firm texture I prefer. The prawn on the other hand is fresh and crunchy. As for the pork loin, it is tender and fresh-tasting.
On the whole, this is a rather decent bowl of mee pok which I do not mind having again and again.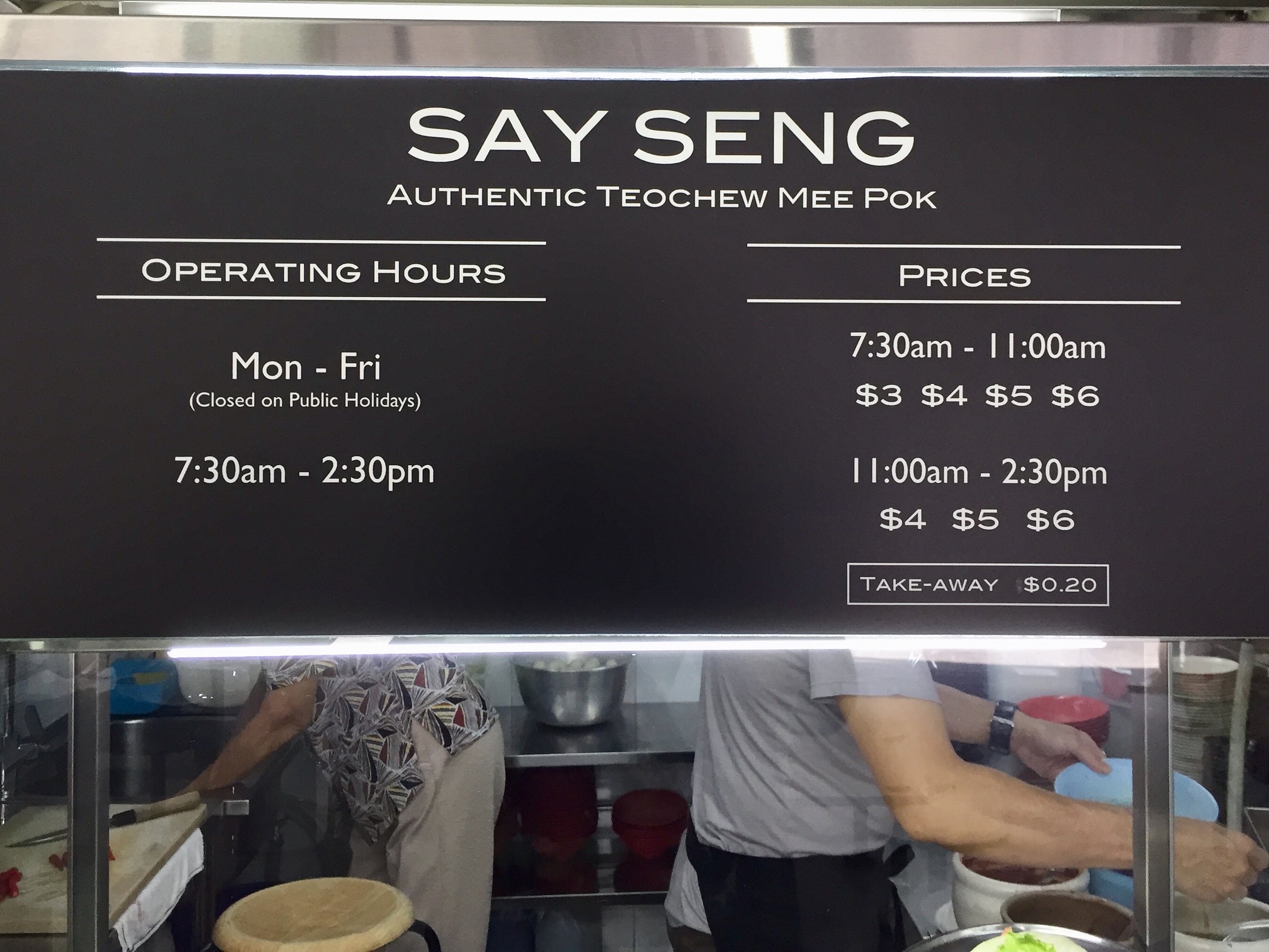 I like how everything is spelt out in black and white. Makes it easier for customers to know about their operating hours and prices.
Market Street Interim Hawker Centre - the temporary hawker centre housing the Golden Shoe hawkers for the next four years is situated at Cross Street, right next to Telok Ayer MRT Station Exit A.
SAY SENG AUTHENTIC TEOCHEW MEE POK 生成乾面
Market Street Interim Hawker Centre
8 Cross Street
#01-41
Singapore 048424

Business Hours
Mon - Fri : 7.30am - 2.30pm